Commercial Drain Cleaner Machine
A specialized solution to the harshest drain cleaning jobs is the VEVOR Electric Drain Auger. This sewer snake machine provides a more powerful choice for homeowners to clear clogged objects than traditional snakes. It has a robust construction with kink-resistant solid core cable. Including 4 shapes of cutters for different use. Suitable for main drains and sewer lines. The VEVOR Electric Drain Auger is a reliable and high-performance machine.



Professional Tool for Drain Cleaning




Air-Activated Foot Control
MobileBulletPoint
Tough Equipment & Tools, Pay Less
VEVOR is a leading brand that specializes in equipment and tools. Along with thousands of motivated employees, VEVOR is dedicated to providing our customers with tough equipment & tools at incredibly low prices. Today, VEVOR has occupied markets of more than 200 countries with 10 million plus global members.
Why Choose VEVOR?
Premium Tough Quality
Incredibly Low Prices
Fast & Secure Delivery
30-Day Free Returns
24/7 Attentive Service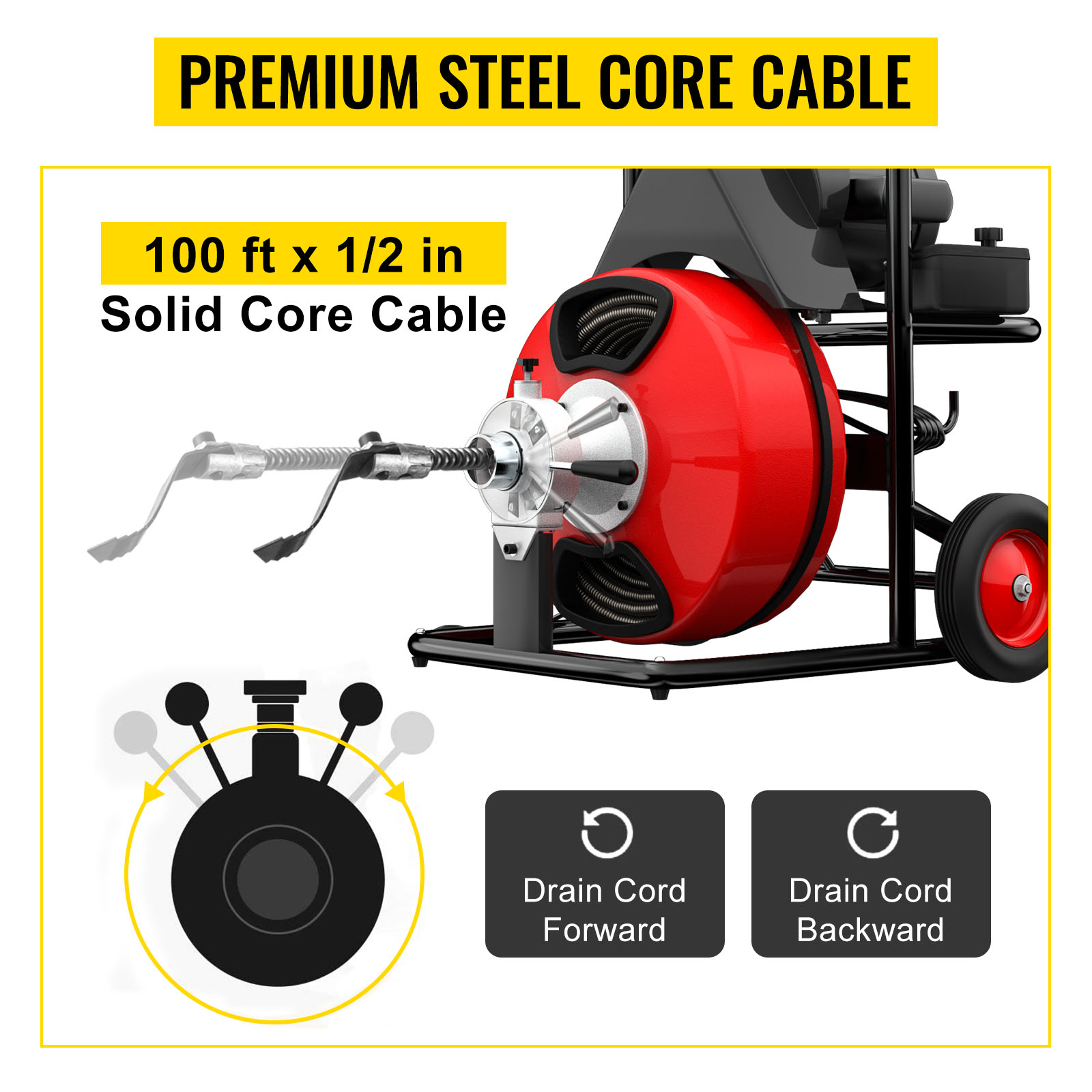 100 Ft x 1/2 In Core Cable
This premium steel core cable would effectively resist breakage, tangling, kinking, and corrosion while maintaining its rigidness. The cable's movement can be changed forward/backward. Ideal for 1″-4″/25-100 mm pipe.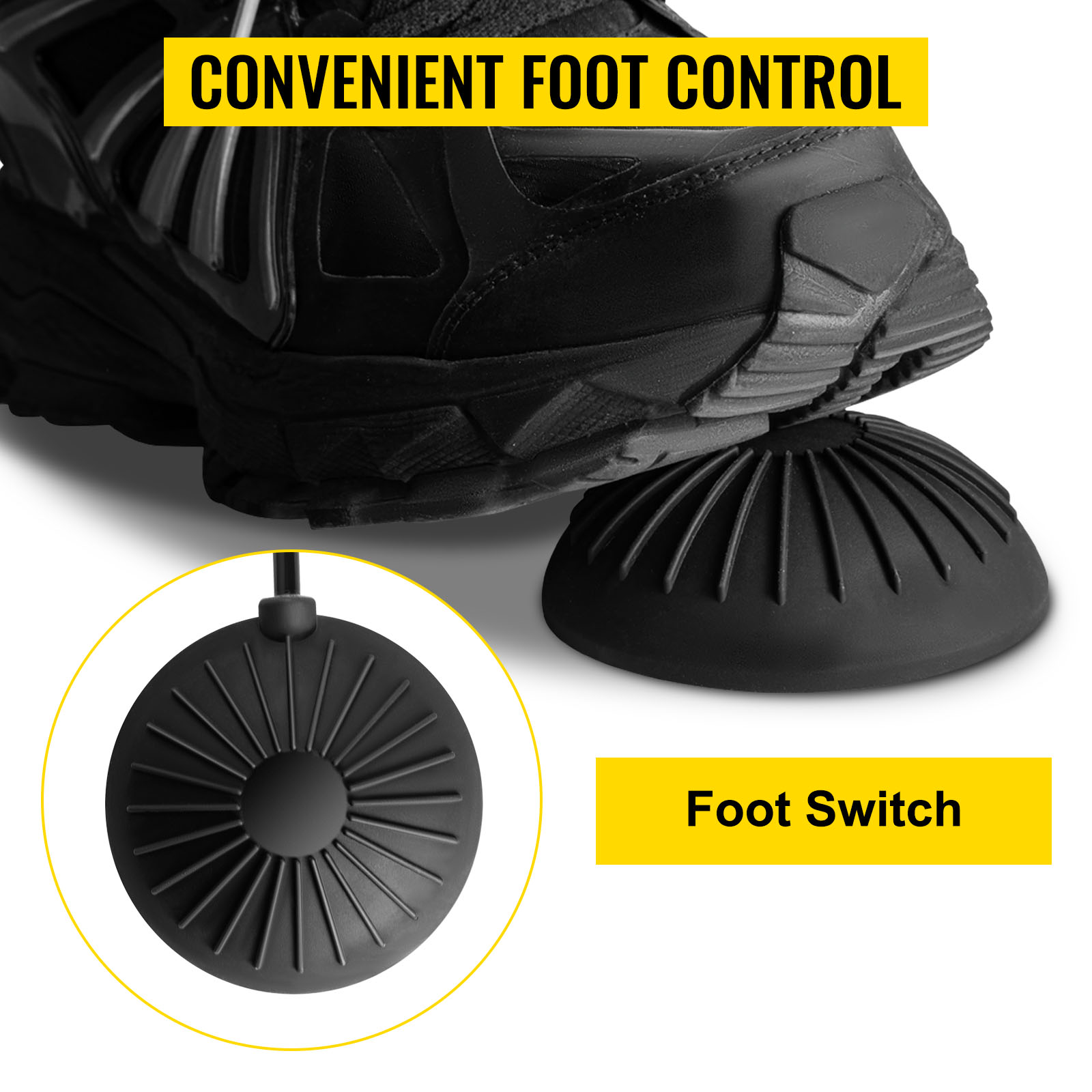 Convenient Foot Control
The air-activated pedal switch is designed to be operated alone. It provides quick and easy on/off control of the motor so that you can control the cable's movement effortlessly.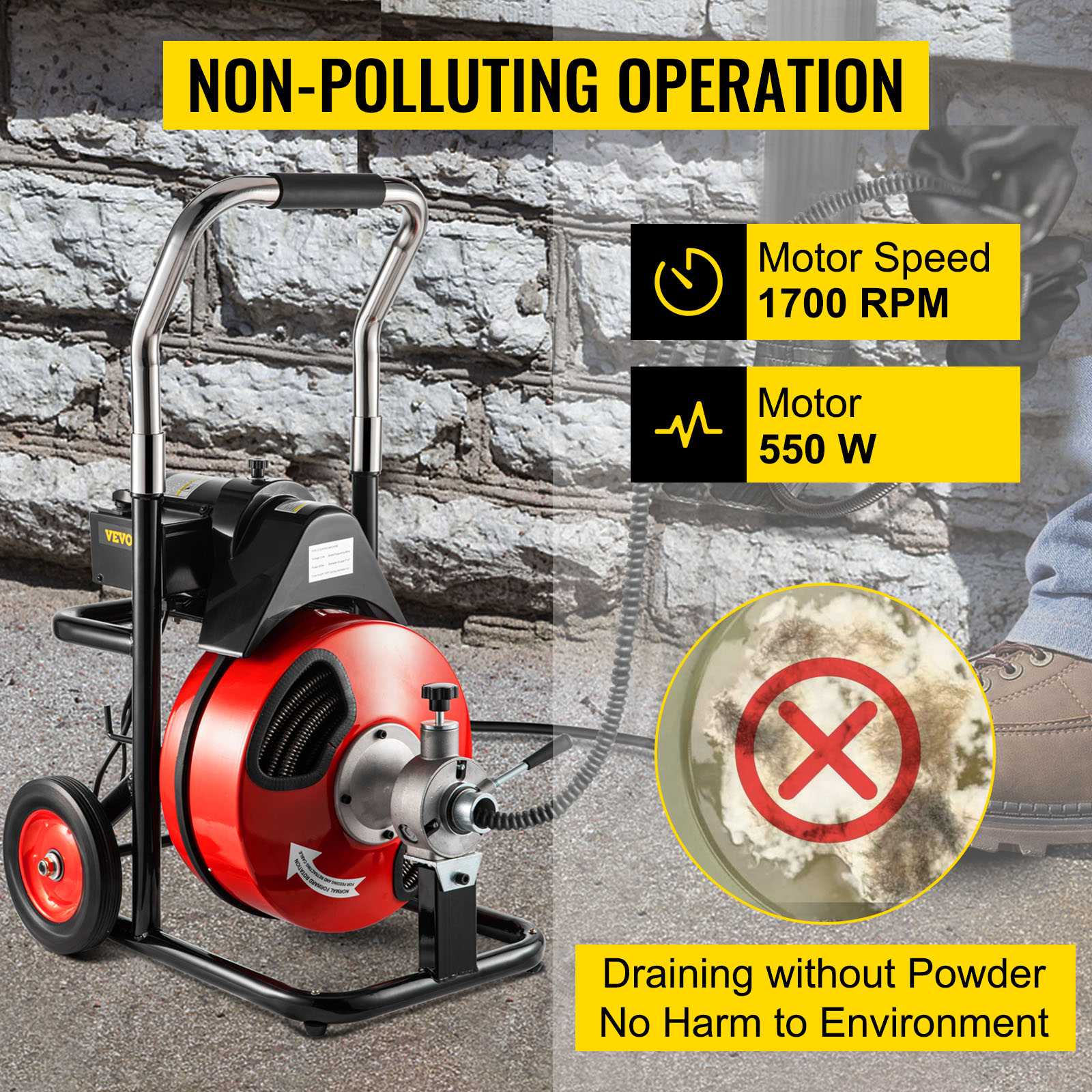 Non-Polluting Operation
With 550W powerful motor and 1700 RPM speed, our drain cleaner machine works efficiently without any pollution during the cleaning process. Perfect for long-term use.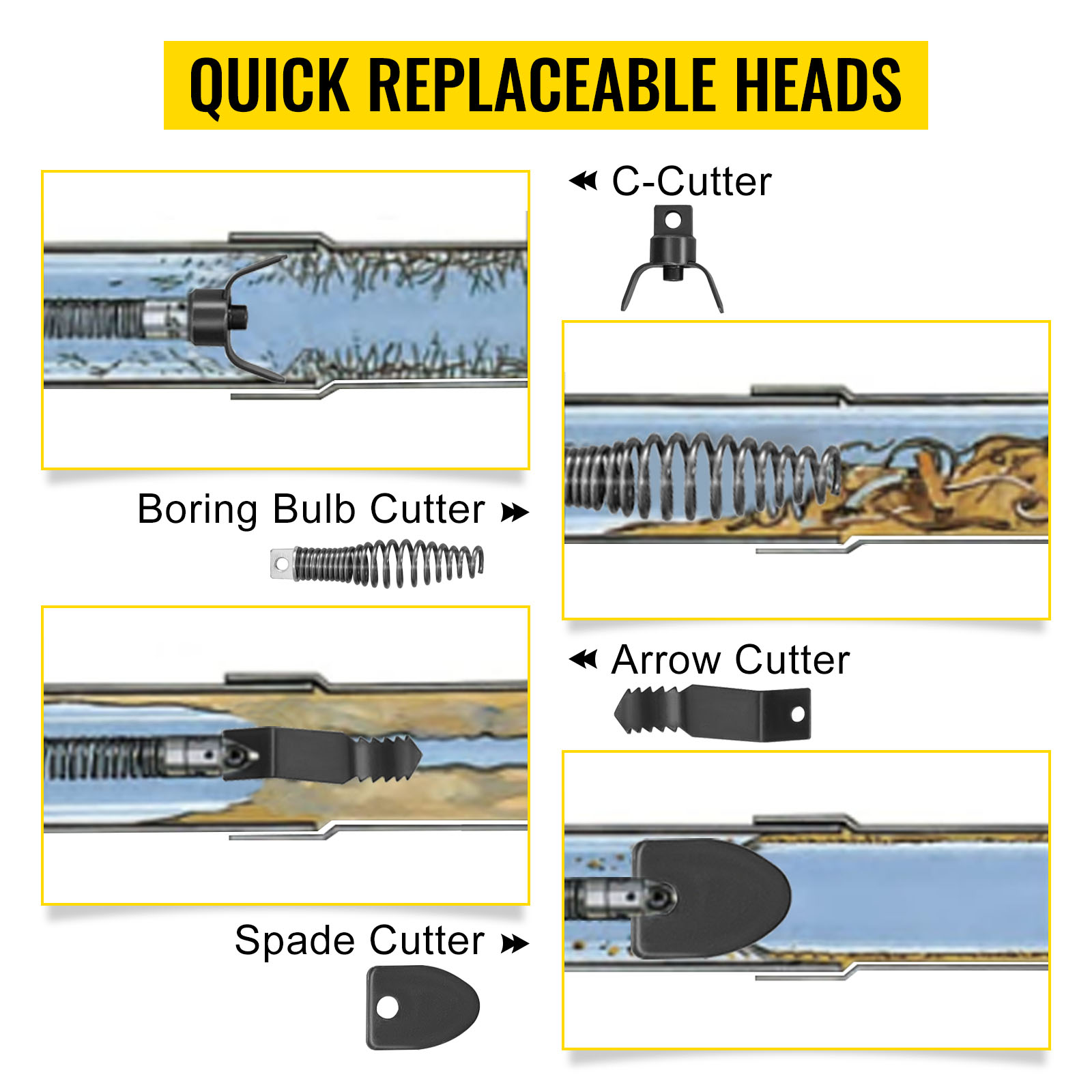 Quick Replaceable Heads
Four Cutters are skilled in coping with different situations. Arrow cutter is for cutting and scraping; boring bulb cutter removes loose objects; c-cutter cleans grease stoppages and wall of the pipe; spade cutter scrapes the inside edges of pipes.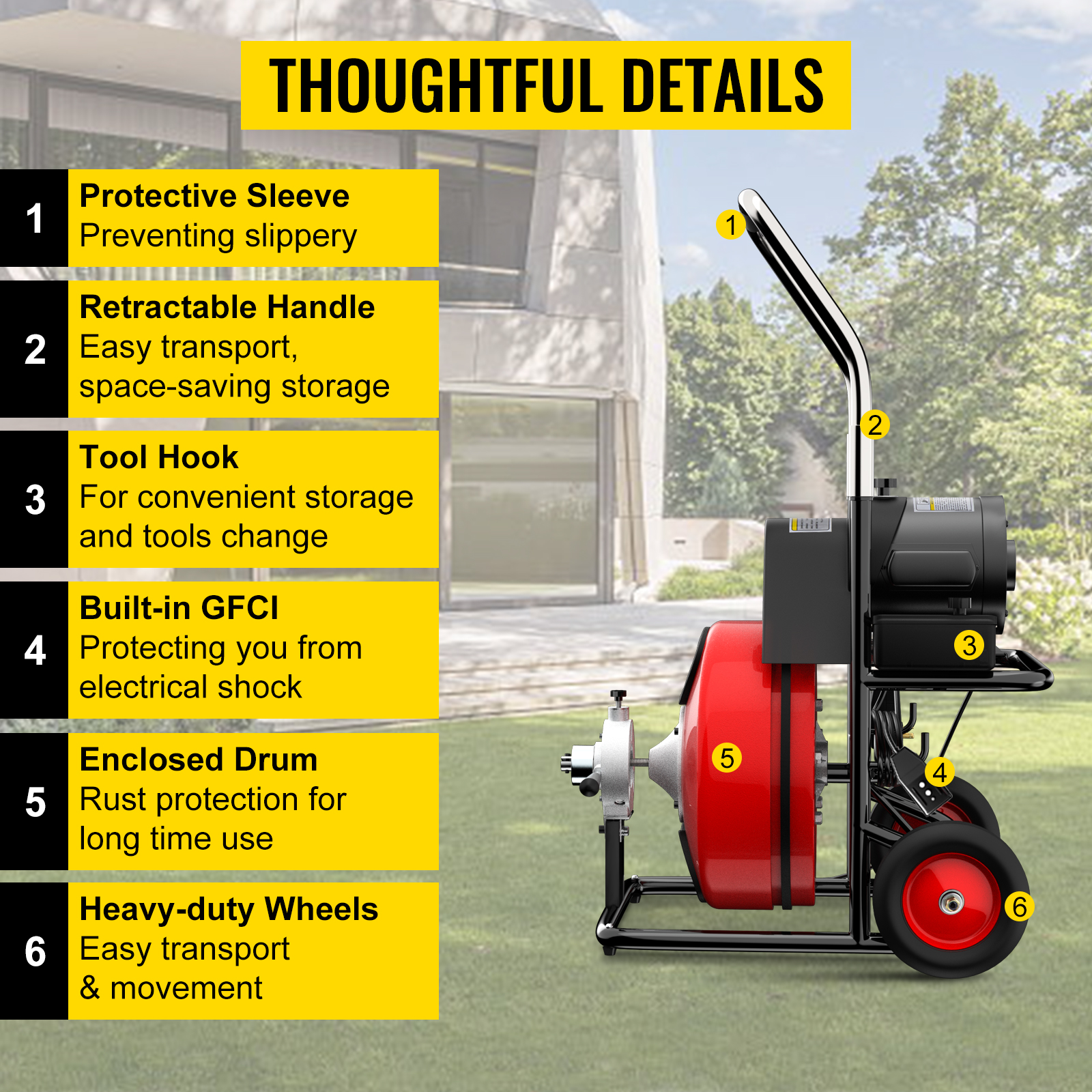 Thoughtful Details
Our sewer snake machine focuses on every detail to assure your security and prolong the service life. Built-in GFCI prevents electrical shock. A retractable handle with protective sleeve and heavy duty wheels are convenient to move in the work sites.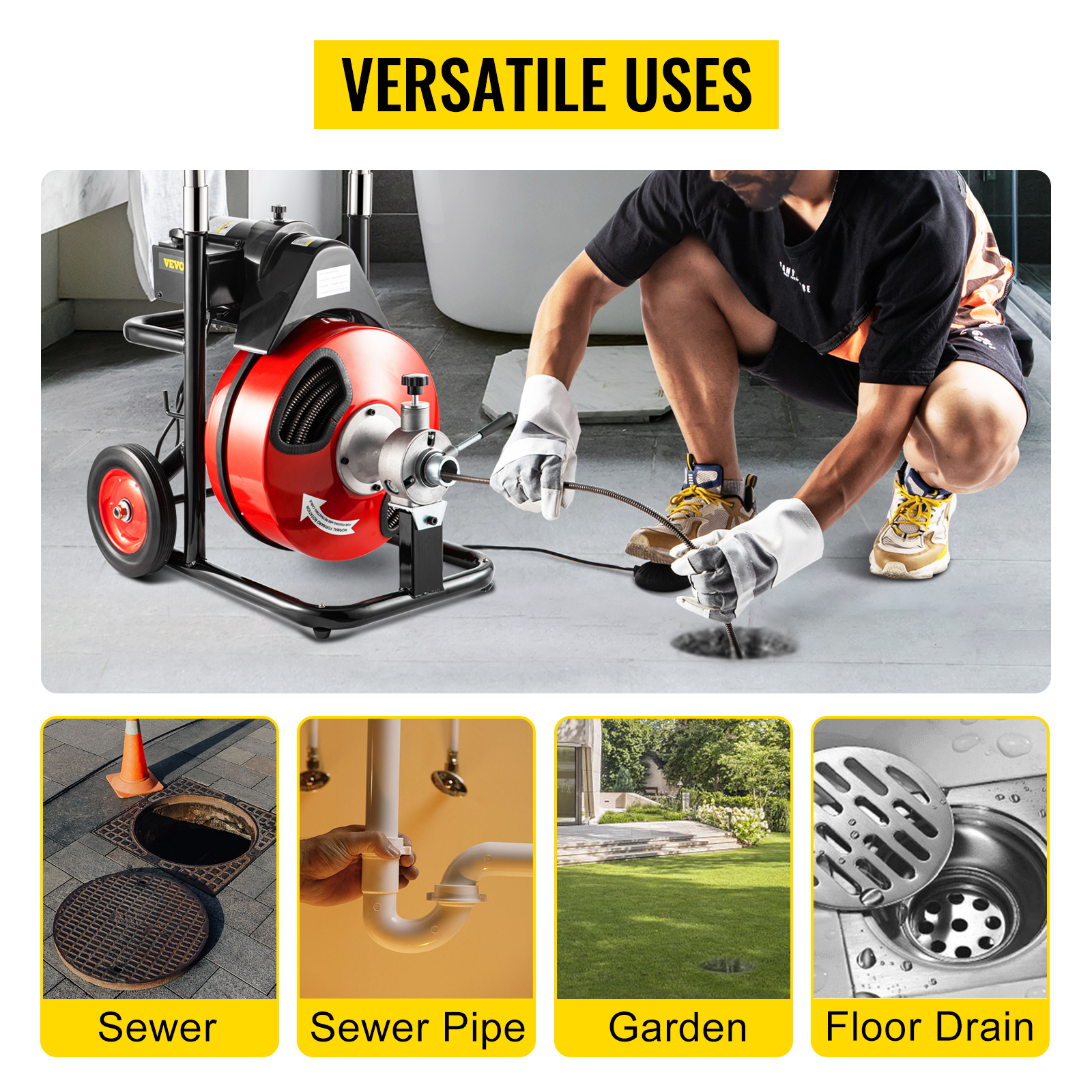 Versatile Uses
Compact design with reasonable size and weight. This electric snake applies to home, office, and public places for cleaning drain pipes in sinks, washbasins, floor drains, etc.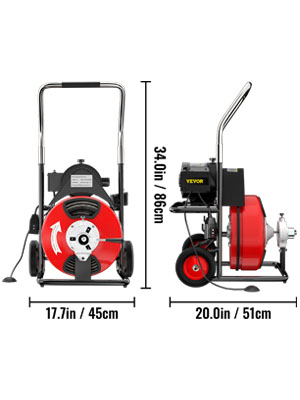 Drain Line Capacity I.D.: 1″ – 4″ / 25 – 100 mm




Standard Cable: 100′ x 1/2″ / 30 m x 13 mm




Motor Power: 550W Forward/Reverse




Material: High Quality Steel




Cutting Types: Arrow/Spade/C/Boring Bulb Cutter




Weight: 113.5 lbs / 51.5 kg




Product Dimensions: 17.7x20x34 in / 45x51x86 cm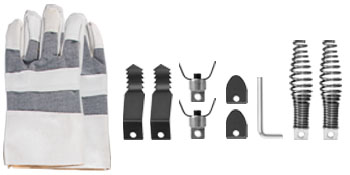 1 x Compact Electric Drain Pipe Cleaner




8 x Interchangeable Cutters